Kiosk Slimline MultiLine A1
Robust multifunctional kiosk. 19" TFT + . WxHxD (+/-)=550x1300x500 mm. Casing: powder coated steel - Standard colour: RAL9006. Door front.
Optional: PC, Webcam, printer (ticket to A4), cardreader, scanner, wireless LAN, 3G, RFID, payment device.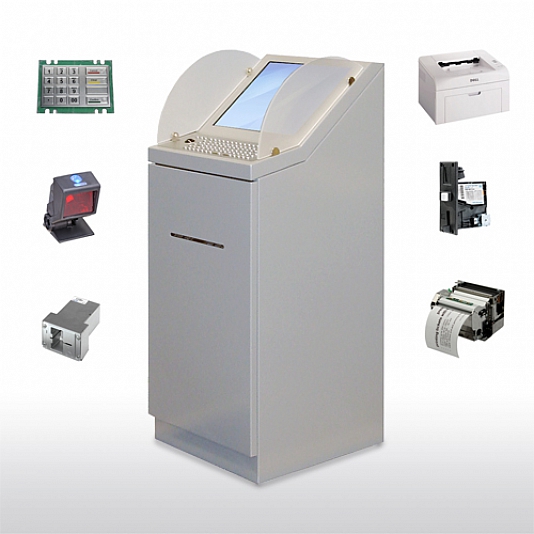 Advies nodig?
Onze productspecialisten staan voor u klaar.
Bel ons, laat u bellen of stuur een bericht.
Wij bellen u terug
Een antwoord via email
Offerte aanvragen
Offerte aanvragen
Meer informatie
De kiosk is speciaal geschikt voor het inbouwen van randapparatuur zoals laserprinters, thermische kiosk printers,...

De kiosk heeft een deur vooraan voor eenvoudig onderhoud.

De kiosk kan ook gebruikt worden door rolstoelgebruikers.

In de kiosk kunnen enkel compacte laserprinters ingebouwd worden. Voor grote laserprinters kijkt u best naar het model Multiline Q1.

Optioneel: webcam, scanner, kaartlezer, wireless lan, ticketprinter.
---
Technische details
| | |
| --- | --- |
| Gewicht (kg) | ±90 |
| Dimensies HxBxL (mm) | 1650 x 500 x 500 |
| Kleur | RAL |
| Environment | +5°C - +30°C | max. 70% |
| | Staal |
| Resolution Display | 1280 x 1024 |
| Type Display | 19" LCD |
| Specs Display | 300 cd/m² 400:1 |
| Connections | VGA | DVI |